Kids Bamboo Cot Mattress
The Panda Kids Memory Foam Bamboo Cot & Cot Bed Mattress, perfect for growing children between newborn – 5 years old.
£99.00 – £129.00
Hydro-Foam™
We created Hydro Foam using minute gel capsules infused into our high-quality 3rd generation memory foam.
As a result, the material prevents overheating during the night. Using symmetrical ventilation holes across the surface improves air flow.
Waterproof Layer
A thin, light and a durable waterproof layer made using the latest Nano TPU™ technology.
Seamlessly protects the mattress from accidental spills and acts as a shield against moisture, bacteria and fungi.
AirFlow Foam
Our perfectly engineered support base ventilates the mattress' core and evenly distributes weight to relieve pressure points.
The AirFlow Foam also keeps the mattress secured in place.
The Panda Cot Mattress
The Panda Kids Cot & Cot Bed Mattress has been developed to support your baby throughout the early stages of their childhood. Our revolutionary combination of Hydro-Foam & AirFlow Foam layers reduces movement by up to 30%, prevents overheating and relieves pressure caused by growing pains.
Climate Control
Summer
During the warmer months, the mattress naturally allows air to pass through the fabric and memory foam layers. Keeping your little one cool throughout the warm nights. The breathable fabric works alongside Hydro Foam & AirFlow Foam ensures there's a constant natural airflow.
Winter
The bamboo fabric is naturally thermal regulating. This means that it retains heat during the winter months. The fabric reacts to the surrounding environment, when in a colder area, the fabric will adapt accordingly to retain heat, so your little one can remain nice and cozy!
fiber dries in half the time of cotton and resists wrinkling. Wash in a 30-Degree wash.
Antibacterial
Bamboo is naturally antibacterial which helps to protect against skin irritation and allergies.
Making the Panda Kids Mattress suitable for those who suffer from eczema, sensitive skin or hay fever caused by dust mite.
Temperature Control
Temperature regulating technology will keep the Panda Kids Mattress cool in the summer and warm in the winter.
This is all thanks to the highly breathable bamboo cover which keeps the air flowing.
Sustainable Resource
Bamboo is a sustainable resource which is one of the world's fastest and densely
Bamboo uses 1/3 of water to other plants.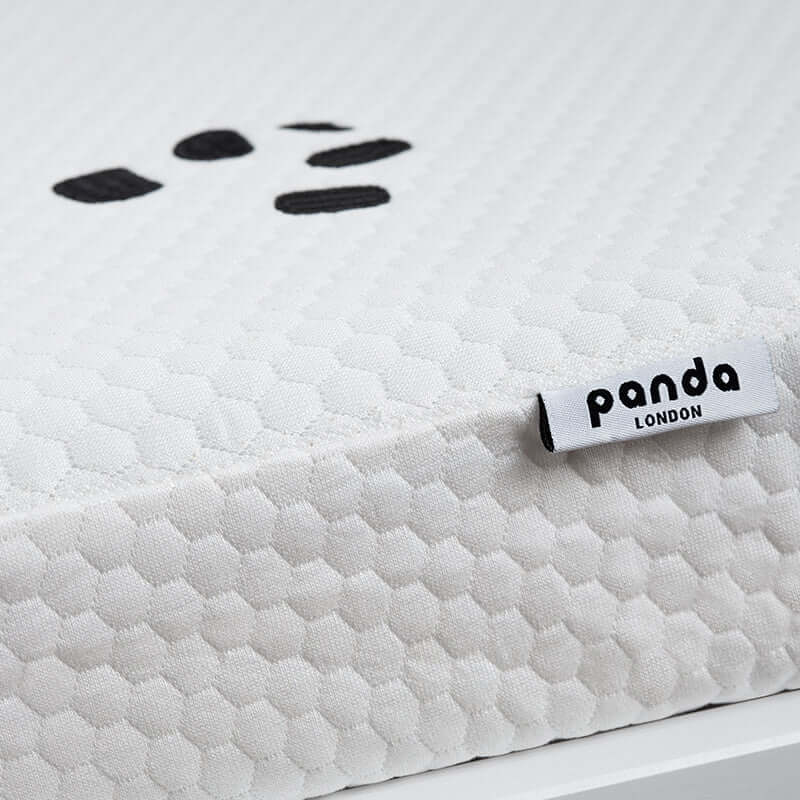 Six Layer Construction
Six different layers combine to make up the Panda Hydro Foam Bamboo Mattress. Each layer helps to enhance both comfort and support throughout the night.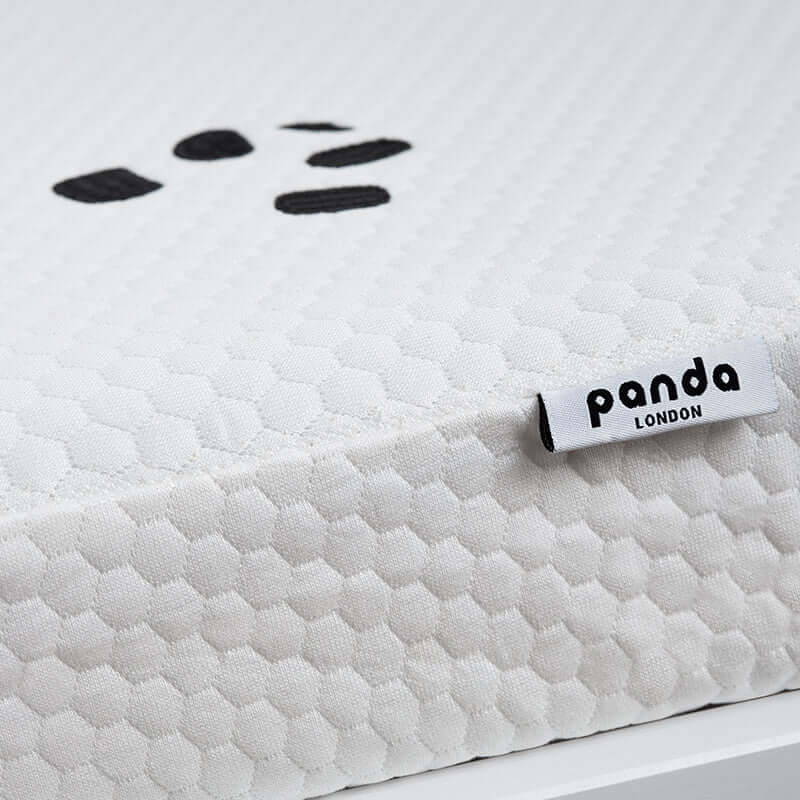 Sweet Dreams
A night of good sleep is crucial for growing children and is just as important as exercise and a healthy diet. Giving the body and mind time to recharge and prepare for the day ahead helps to promote growth, increase learning and even fight off a cold. Lack of sleep makes us feel tired and cranky, which is not ideal for you or your baby. Making small changes can make a big difference. Meaning your little one's busy day, full learning, playing and running around with friends even more enjoyable.
Removable Cover
Removable Cover
The Panda Mattress comes with a plush bamboo cover which is removable and easy to clean.
Anti Slip Layer
The mattress features micro-silicone grips embedded across the under-layer, restricting any unwanted movement.
Waterproof Layer
Using the latest nanotechnology we created a thin, light and durable waterproof layer, which seamlessly protects the mattress from accidental spills and acts as a shield against moisture, bacteria and fungi.
Standard 100 by OEKO-TEX® & Reach Compliant
STANDARD 100 by OEKO-TEX®
All our products are according to STANDARD 100 by OEKO-TEX® Product Class 1. This means that our products have been tested to ensure they are safe for babies and sleepers who suffer from sensitive skin. OEKO TEX Certificate: SH002 156213 [Swiss Textile Testing Institute]
REACH
A European Union regulation concerning the Registration, Evaluation, Authorisation and restriction of Chemicals.
The small print
Free UK Delivery & Returns

More Details

Our standard UK mainland delivery – Mon to Fri, 8 am to 7 pm- is free when spending over £30 and within 5 working days of placing your order (Typically takes 2-5 days to arrive).

We send you a tracking code the day your order ships so you can track the progress of your order. Orders to outlying regions of mainland UK and to Europe will take longer.

30-Night Trial

More Details

Buying a Mattress online can feel very risky, especially if you're concerned that you're not going to like it.

We're confident that your little one is going to love the Memory Foam Mattress by Panda.

That's why we give all of our customers a complimentary 30-Night trial, alongside free delivery and returns if you're not happy.

More Details

5-Year Guarantee

More Details

Our products are designed to last, easy to care for and offer unique elegance and comfort with the closest attention to the finest detail.

That's why we give you a 30-night trial and a 5-year guarantee!

Product Specs

More Details

Throughout our entire product line, we never use any harmful chemicals. All of our products are to an OEKO-TEX Standard 100. A testing and certification system for textile raw, intermediate and end products at all stages of production. Ensuring the absence of harmful substances. For more information visit oeko-tex.com.

BS 7177 - Flame Retardants
Styled By You
Post an image of your new Panda Memory Foam Bamboo Cot/Cot Bed Mattress & tag @PandalifeUK for the chance to be featured here!
@talesofboys
@mama_jadzi_
@talesofboys