In the quest to find the perfect mattress, there are many things to consider- support, size, and comfort! Though, what is key to long-lasting, healthy sleep is mattress firmness. Whether you love to sink into a softie or need a firm mattress to sleep like a baby, this guide tells you all you need to know about mattress firmness so you can find your dream match.
What is Mattress Firmness?
When you start browsing online, you will soon become familiar with the phrase 'mattress firmness rating'. This is how brands indicate how soft or firm a mattress feels. There is currently no industry standard in terms of mattress firmness rating. It is much determined by the materials used and their various densities.
Your sleeping position and weight can both affect your ideal mattress firmness, which we will get to shortly.
First, let's break down a typical mattress firmness rating scale and what materials can make it feel 'soft' or 'firm'.
The 'Firmness Scale'
Consider the below mattress firmness scale, starting with one being 'supremely soft' and ten being 'incredibly firm'.
| | |
| --- | --- |
|  Extra Soft 1-2 | If a cloud were a mattress, this would be it. Think softer- than- a marshmallow-soft! |
|  Soft 3-4  | This rating indicates you are still getting a soft, sinking feeling with a slight firmness.  |
|  Medium Soft  5-6       | Now you are moving more towards a firmer feel, cushioned with a slight, sinking softness. |
|  Medium Firm 7-8 | Firm, though not too firm. This 'just right' rating balances firm support with cushiony comfort.  |
|  Extra Firm  9-10 | The firmest of them all, this sleep surface is ideal for heavier sleepers and those who crave a firmer feel. |
What Materials Make a Mattress Soft or Firm?
Another indicator of mattress firmness is the materials used. If you are looking for lots of support, choose orthopaedic grade memory foam, that will naturally contour to your sleeping position.
Pocket springs can give a slightly softer, more bouncy feel. If you are after the best of both, a hybrid – like Panda's Bamboo Hybrid Mattress combines advanced support with pocket spring technology, providing the ideal balance. Our carefully engineered BioCell Foam™, OrthoAlign Foam™ and Seven Zones of Premium Pocket Springs cradle you in cushiony comfort without compromising pressure point perfect support.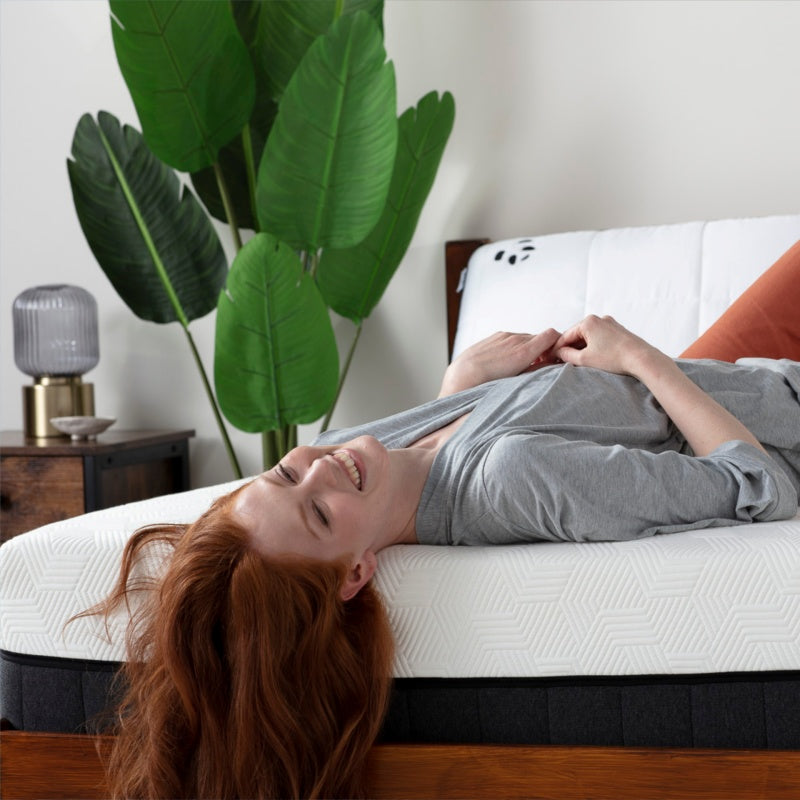 What Mattress Firmness is Right for you?
While sometimes it's good to take a chance, bedtime is something you want to get 'just right'.
Before you decide, understanding what mattress firmness best suits your sleeping position is critical. Here are some things for each type of sleeper to consider.
Side Sleepers – Healthy spinal alignment is key for side sleepers while ensuring your pressure points are supported and comfortable. Naturally, contouring memory foam with soft cushioning will keep your hips and spine happy.
Front Sleepers – Front sleepers can benefit from a firmer feel that provides healthy hip and spine alignment and extra support.
Back Sleepers – Ensuring your hips are lifted is essential for back sleepers, a slightly firmer surface can suit you.
Does Weight Affect What Mattress is Best for You?
Your weight can help indicate what mattress firmness will better suit your needs. For lighter sleepers, adequate cushioning and slightly softer surfaces can keep you sleeping comfortably. A somewhat firmer surface with adequate support for heavier sleepers can prevent over-sinking.
Firmness and Support - Are they the same thing?
It's easy to confuse mattress firmness with mattress support, though are they the same thing? Not exactly. Mattress firmness is what you experience when you take that first relaxing lie-down onto your bed.
Mattress support is measured by the quality and type of memory foam that it is made with. Quite often mattresses that offer more support tend to have a firmer feel. Those that combine memory foam with cushioning pocket springs can offer more of a balance between comfort and support. Our Hybrid Bamboo mattresses does that allowing it to suit and provide a wider range of sleepers the perfect night's sleep.
Final tips to find the perfect mattress
Choosing a mattress online is a big decision, and it makes sense to take your time. And nothing transforms bedtime like the perfect mattress! The good news is we offer a free 100-Night Trial on our Hybrid Bamboo Mattress, so you can be sure you've found your ideal match without losing a wink of sleep.
Something still on your mind?
Our customer support team is here 7 days a week (yep-even on a bank holiday) to put it to rest. You can find full contact options below.