Are you looking for ways to enjoy a more comfortable, supportive night's kip? Before you go changing your mattress, there is a budget and planet-friendly alternative that can help improve sleep quality and make bedtime bliss. Mattress toppers are one of the most popular ways to reduce neck and back pain and add a layer of comfort to an old or inefficient mattress. Let's take a look at their benefits and how to find the best one to keep you sleeping soundly.
What are the benefits of a mattress topper?
Whether you are experiencing back pain, feeling uncomfortable or overheating at night a mattress topper could be a dream come true. Here are a few of the many benefits they can provide:
Orthopaedic grade support
The number one many sleepers look for in any mattress upgrade is proper support. Sleeping on surfaces that do not keep you in proper alignment and support your sleeping position can lead to back pain and bad posture and make those morning workouts impossible. A good quality mattress topper will provide orthopaedic support so you can rest assured you will wake up feeling rested and pain-free.
Mattress a little tired or not quite doing its job properly? Replacing a mattress can be expensive and something you only want to do when you really have to. A mattress topper is a budget-friendly solution to add a layer of luxurious comfort and improve your sleep until you're ready for that upgrade. They can vary in price, though you should be able to find a quality topper in the region of £100-£200 depending on your bed size.
Tossing and turning at night is never fun, summer months and life changes such as menopause can make overheating a real issue and make sleep impossible. A mattress topper, like the Panda bamboo topper, can provide thermoregulation with advanced gel and heat technology that can stop you from getting hot under the covers. Mattress toppers vary in materials, fills, and styles. Choosing the right one for you is important, which we will cover shortly.
If you are one of the 15-20% of adults that experience back pain, bedtime can often be a culprit. Not having sufficient support for your pressure points can, overtime, lead to discomfort that can affect your day and zap the fun out of things you love doing, like walking, running, and those peloton workouts. A mattress topper can provide comfortable relief to your pressure points, keeping you in proper alignment. This helps ease you into better sleep and will brighten up your mornings.
Replacing a mattress too soon or choosing unsustainable mattress toppers can play a big part in increasing landfill. This is having a devastating influence on climate change. Choosing an eco-friendly mattress topper like the Panda bamboo topper goes a long way to reducing your carbon footprint and taking care of our planet. Quite often it's the small lifestyle changes we make together that can make the biggest difference. Looking for sustainable materials like bamboo as alternatives for many of our favourite products not only provides an abundance of health benefits, it is a great way to protect the resources of the world and keep the environment clean and beautiful.
What are the different types of mattress toppers?
Just like us, mattress toppers come in all different styles and sizes. Before you choose, have a good idea of what would make your sleep more comfortable. The four main types of toppers are:
Memory Foam – A memory foam mattress is best for those looking to relieve back pain and crave more support. They are designed to respond to your sleeping position to keep you in proper alignment and add a layer of comfort to your mattress. Choosing natural materials like bamboo provides the added benefit of thermoregulation, this is great to combat the heat retention of memory foam which can lead to those restless nights.
Feather and down – For those who like bedtime soft, feather and down provides a fluffy, cushiony comfort and also does not retain as much heat as memory foam. These are not the most ethical choice and can lack in providing orthopaedic support that can keep you in proper alignment.
Microfibre – Microfibre is often the cheapest option, these can lack in breathability and tend to have the shortest lifespan. This makes them not very eco-friendly as they will have to be replaced sooner, ending in landfill which contributes to climate change.
Latex – Latex toppers can be very firm and are one of the most expensive choices. They can be very durable and adapt to your sleeping position, though their elasticity can make them bounce back very quickly.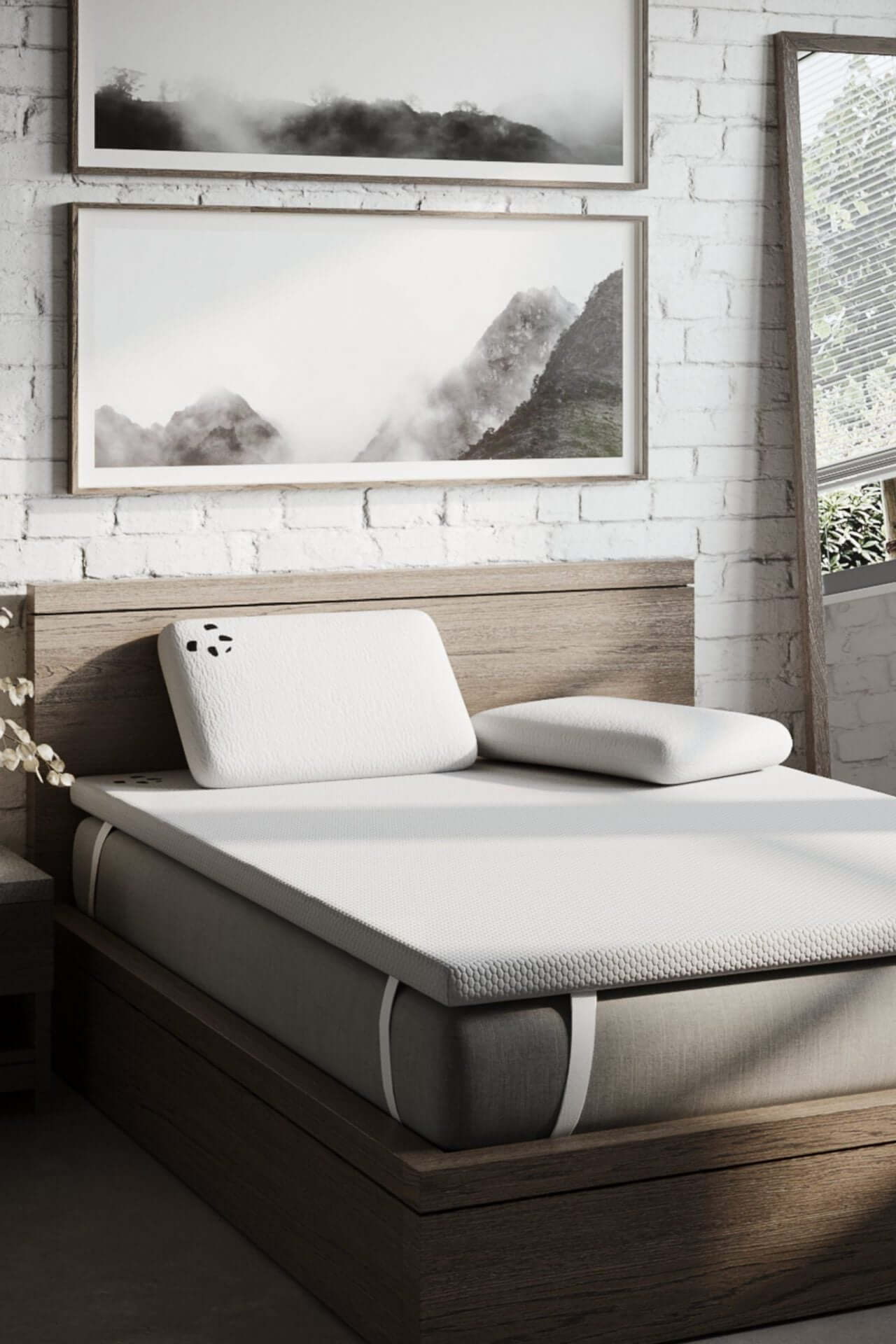 Frequently asked questions about mattress toppers
If you are considering a mattress topper, you likely still have a few questions to help you make up your mind. Here are some of what many sleepers ask us before making the upgrade:
A mattress topper can transform your sleep by adding another layer of indulgent comfort and support. A mattress topper is a perfect way to enhance the comfort of your mattress if you are not ready to change it and looking to make bedtime that bit more luxurious.
The topper provides a firm memory foam surface to support your whole body. The pressure is more evenly distributed across your body, and not just at certain points. The cooling properties of HydroFoam prevent overheating, while the breathable bamboo cover will give a sense of softness and comfort.
A memory foam mattress topper can last for up to five years and beyond, they are easy to keep clean and are the perfect additional layer of luxury or alternative to replacing your mattress.
Rather talk to a real person? Our customer support team know their toppers, they are available seven days a week and would love to hear from you. You can speak to them via online chat or find their contact details here.