A good night's sleep is essential for our overall well-being, but it can be a constant struggle for those with allergies. The right bedding can make a significant difference in reducing allergens and promoting a healthier sleep environment. Hypoallergenic duvets are designed specifically to minimise allergens and provide a safe haven for allergy sufferers. Get ready to say goodnight to your allergies, and discover how hypoallergenic duvets can help you sleep better and healthier!
Understanding allergies and sleep
Allergies can significantly impact sleep quality and overall health. Dust mites, pollen, pet dander, and other allergens are often found in bedding – this can trigger allergies or worsen existing symptoms. This can lead to congestion, itching, and sneezing, all of which can be the reason for restless sleep. Minimising exposure to allergens is crucial for achieving a peaceful and restorative sleep, which is why a hypoallergenic duvet (specifically designed to combat these allergens) is so important if you suffer in this way.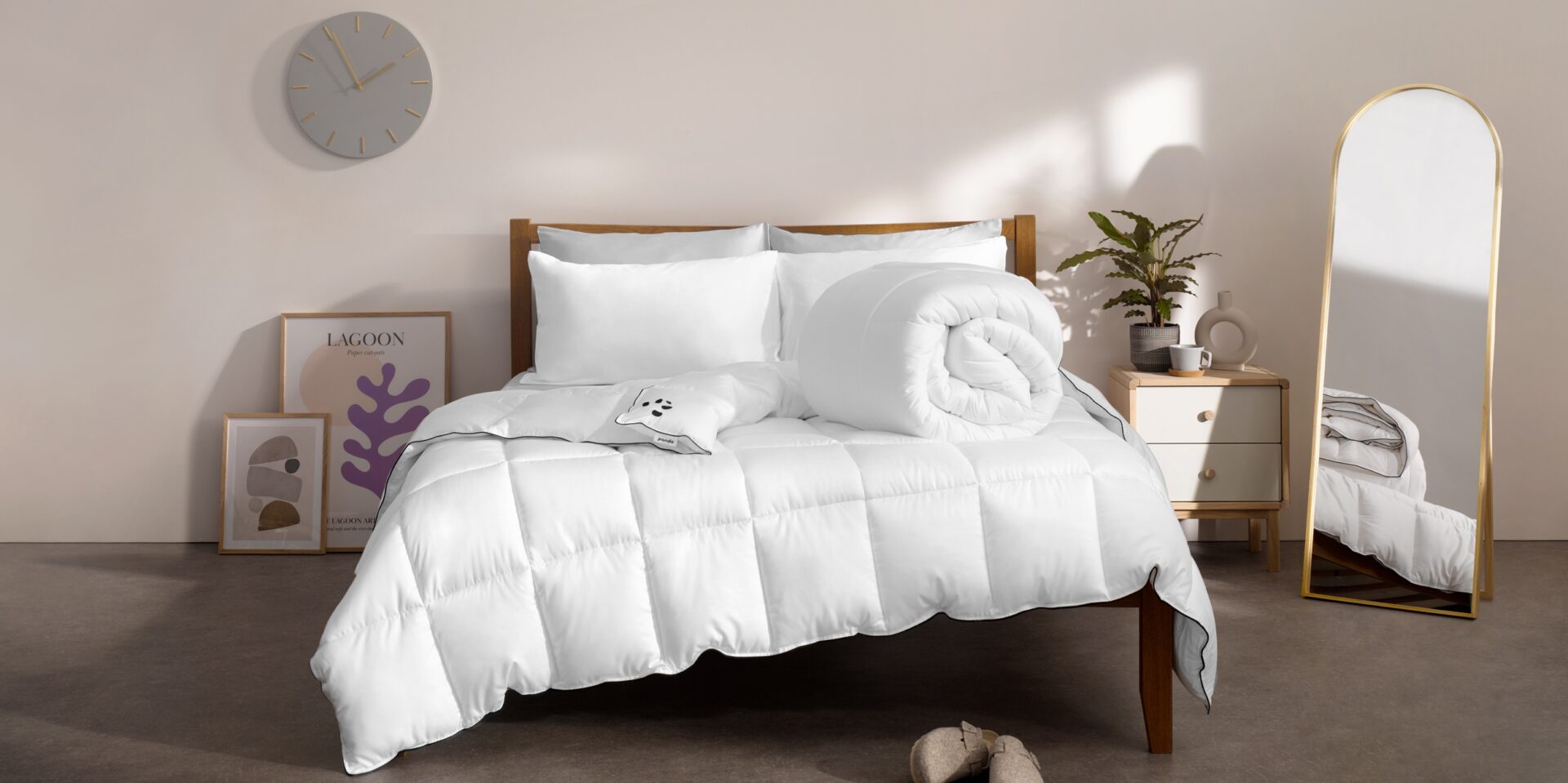 What makes a duvet hypoallergenic?
Hypoallergenic sleep products are crafted with materials and features that reduce the accumulation of allergens. These duvets are made from tightly woven fabrics that prevent dust mites and other allergens from penetrating the layers, making them much safer for you. They are also often filled with hypoallergenic materials such as down alternatives, bamboo fibres, or silk, all of which are less likely to trigger allergic reactions. Additionally, many hypoallergenic duvets are treated with antimicrobial or anti-dust mite finishes to create an inhospitable environment for allergens. For example, a bamboo duvet will have a soft, naturally antibacterial, hypoallergenic bamboo cover! Look out for any certifications relating to products being hypoallergenic or information about how they're tested before you buy.
Benefits of hypoallergenic duvets
Opting for hypoallergenic duvets brings several benefits, particularly for allergy sufferers. These duvets minimise exposure to allergens, reducing the likelihood of allergic reactions and relieving common symptoms such as sneezing, coughing, and congestion. Hypoallergenic duvets promote better sleep by creating a cleaner and healthier sleep environment, allowing you to wake up refreshed and free from discomfort.
If you have allergies or sensitivities, you'll know the frustration of drifting off when you're sniffing, itching, or feeling a bit congested. And you're not alone; according to Allergy UK, over 60 per cent of the UK population (approximately 41 million people) suffer from a form of allergy – whether they're aware of it or not. This is why a hypoallergenic duvet is a great idea, although don't just take our word for it…
"I have also noticed that my allergies have not been so bad since swapping over to The Cloud Duvet. It's not uncommon for me to have to take a high grade tablet to keep me from getting hives and to keep me from wheezing. However, the bamboo bedding does seem to be making a difference with my allergies in the bedroom. We have had bamboo sheets and pillowcases for years now, and I am so glad that our whole set is now hypoallergenic as it makes my life much easier."
Bryanna, The ecoLogical
Types of hypoallergenic duvets
Various types of hypoallergenic duvets are on the market to suit different preferences and needs. Down-alternative duvets are filled with synthetic fibres that mimic the loft and cosiness of down but are hypoallergenic. Bamboo-filled duvets are natural and hypoallergenic, known for their breathability and moisture-wicking properties. Wool is also hypoallergenic; you'll often find duvets filled with this. Silk-filled duvets are luxuriously soft and naturally resistant to dust mites and mould.
Each type has its own unique features and benefits. If you have a wool allergy, for example, a wool duvet won't be hypoallergenic for you – and those with eczema might find it too itchy. But wool produces less dust and absorbs VOCs (volatile organic compounds), which can be harmful if left in the air, so it's great for people with asthma. A silk duvet is fantastic for people who suffer from dust mite allergies, as it is completely resistant to these. And if you have really sensitive skin, a bamboo duvet will be a winner for you because it is completely hypoallergenic, naturally antibacterial and super soft on the skin.
How to choose the right hypoallergenic duvet
When choosing your allergy-free bedding, it is important to consider your individual needs: what are your allergies, how severe are they, and so on. Then, look at different material types and see what will work best for you. Besides that, it's worth considering other factors like warmth level, duvet size, and how easy it is to care for. You might want a hypoallergenic duvet, but that shouldn't come at the expense of being cosy and so on!
Check out customer reviews when shopping for hypoallergenic sleep products, as you want to know that real people have good things to say and have experienced an improvement in their symptoms.
Maintaining hypoallergenic duvets
When you invest in allergen-resistant bedding, you want it to stay that way. This means keeping it fresh, clean and well-maintained. Wash and dry your hypoallergenic duvet according to the manufacturer's instructions so it stays in tip-top condition, and store it somewhere dry and airy when not in use. Washing your duvet (and all of your bedding) regularly will further help with allergy protection, which is also important. Use allergy-friendly duvet covers, as this helps enhance how your duvet works and helps to protect the duvet itself for healthy sleep solutions!
Make sure you look at how the specific material of your duvet needs to be washed, as it might be slightly different to non-allergenic bedding options; can it go in the washing machine, for example, and if so what setting does it need to go on? Wool, for example, needs to go on an actual wool setting. These are just little things to take into consideration.
Saying goodbye to allergies
While a hypoallergenic duvet isn't a miracle cure for allergies, it will help keep certain symptoms at bay. They are made with materials that work to combat dust mites, bacteria, and other allergens actively. This is what makes duvets for allergy sufferers so much better for getting a healthy night's sleep, so you'll wake up feeling much fresher. Here at Panda, our Cloud Bamboo Duvet is a bestseller, and you can pair it with any of our other allergy-free bedroom essentials like pillows, bedding and more.