Last updated on October 4th, 2023 at 02:15 pm
When it comes to a good night's sleep, the quality of your bedding plays a significant role. If you want to upgrade your sleep experience, consider the revolutionary benefits of bamboo duvets. Made from the fabric of the future, these duvets offer a range of advantages that can transform your sleep. Let's snuggle in and explore all of the incredible properties of a bamboo duvet, like eco-friendliness and comfort, and how you can choose the right duvet for your specific needs.
How comfortable is a bamboo duvet?
Bamboo duvets are known for their exceptional comfort. The unique structure of bamboo fibres allows for excellent breathability and thermoregulation, keeping you cosy in the winter and cool in the summer. Your duvet will intuitively react to your temperature, meaning you'll feel just right all year round – with a bamboo duvet, temperature regulation is one of the key factors. Bamboo fabric's natural softness and smoothness create a luxurious and soothing experience comparable to the finest silk or cashmere. You'll be amazed at the comfort and sumptuousness of a bamboo duvet as you wrap up, ready to drift off to sleep.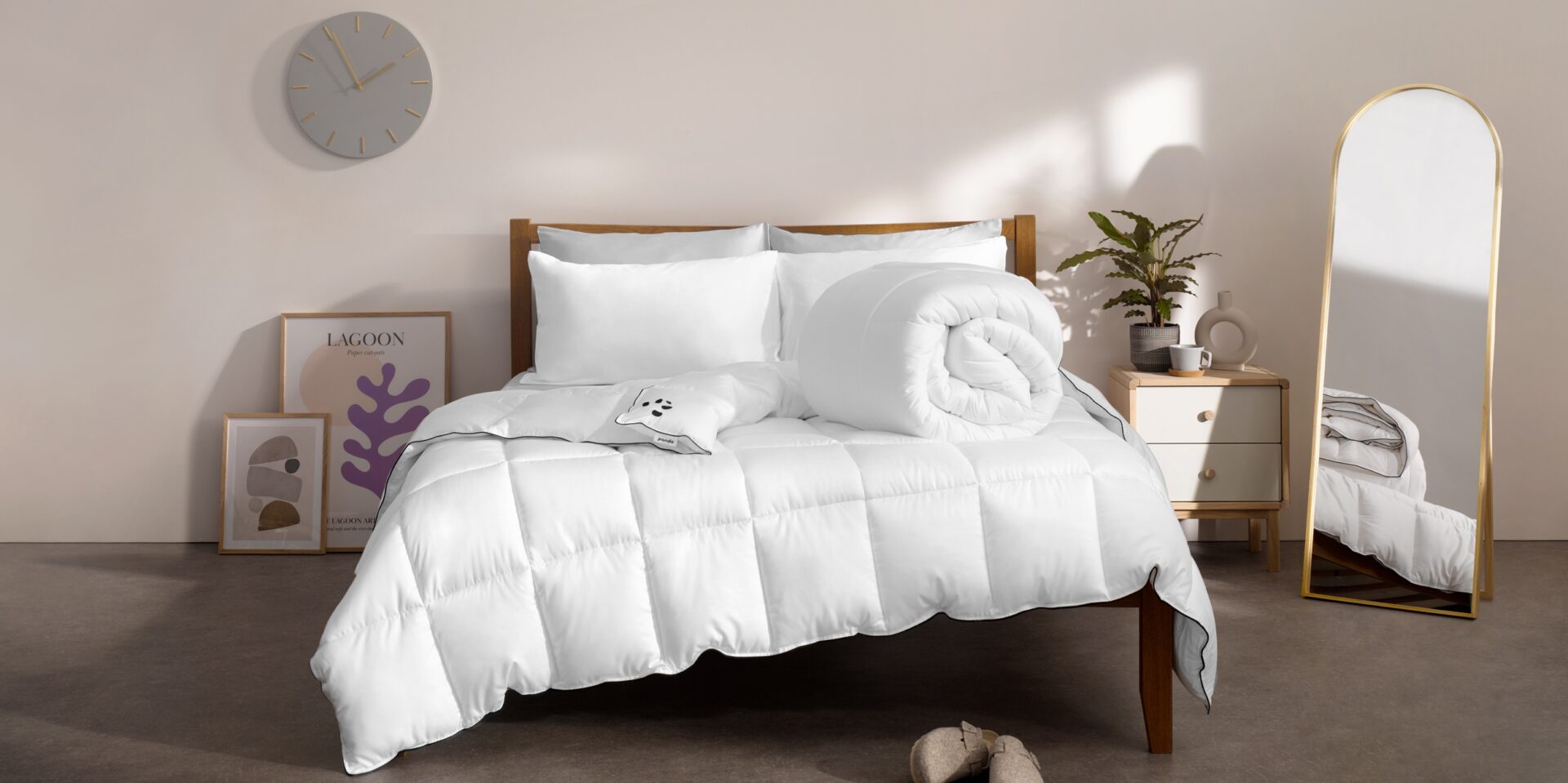 Hypoallergenic and skin-friendly properties
Bamboo duvet comfort is a game-changer if you have allergies or sensitive skin. Bamboo is naturally hypoallergenic and resistant to dust mites, mould, and mildew. It repels allergens, making it an excellent choice for those prone to allergies or asthma. Bamboo fabric's smooth and gentle texture also prevents irritation and is ideal for individuals with sensitive skin. With a bamboo duvet, you can sleep soundly, knowing your bedding isn't causing any issues in terms of your health.
Sustainability and eco-friendliness
Bamboo duvets are beneficial not only for your sleep but also for the environment. Bamboo is a highly sustainable resource that grows rapidly and requires no fertilisers or pesticides. It requires 30% less water than cotton to grow, and it sequesters carbon – there are just so many reasons that bamboo is the obvious choice for eco-friendly consumers.
It is harvested using eco-friendly methods that promote regrowth, making it a very environmentally conscious option. When you choose sustainable sleep with bamboo duvet, you contribute to preserving natural resources and reducing your ecological footprint. And who wouldn't want to do that?
Investing in a bamboo duvet means you're choosing a long-lasting bedding option. Bamboo fibres are incredibly durable, often surpassing the longevity of cotton or synthetic materials. This only adds to how sustainable they are, meaning less duvets end up in landfills over the years!
They can withstand regular washing and maintain their softness wash after wash. Remove your duvet cover and put it in the washing machine; choose a low temperature and a mild detergent (no bleach, please…), then hang out on the line to dry. It's important that you ensure the duvet is spread out properly while drying to avoid any clumping.
How can a bamboo duvet enhance the aesthetics of your bedroom?
Bamboo duvets look elegant and modern, and you can tell by looking at them how luxurious they are – like our stunning Cloud Bamboo Duvet with its iconic black piping. The simple look makes everything coherent and helps to avoid any fuss in your room! Natural bedding with bamboo duvets looks superb, and you'll really be able to enhance the aesthetics of your bedroom. This means your room will be somewhere inviting and comfortable, a place you'll look forward to spending time in. If you want to improve your sleeping habits, this is one way to do it.
How to choose the right bamboo duvet
Choosing a bamboo duvet for better sleep is often down to personal preference. Start by double-checking your bed and mattress size: is it a standard double or king size, or do you have something bigger or in between these sizes? Check out the tog of the duvet you're looking at; you don't want something so thick it'll cause you to overheat, but it needs to be thick enough to keep you warm! Opt for a bamboo duvet with a free trial period; we're pretty sure you'll see sleep improvement with bamboo duvet options, but it's always best to be safe.
And speaking of the safe side, it's always important to check any quality certifications and safety certificates, especially around dyes and chemicals. You want bedding that will care for you, so it's well worth ensuring it complies with any regulations. Choose a bamboo duvet for a restful night and sleep soundly, knowing that you're completely taken care of.
How can a bamboo duvet revolutionise your sleep?
There are so many bamboo duvet benefits; they are soft and snuggly but breathable enough to ensure you feel warm on cold nights and cool when the temperature rises. Not only that, but bamboo is great for your skin and fantastic for the planet! When it comes to the bamboo duvet vs. traditional duvet debate, the answer is clear. Swapping to a hypoallergenic bamboo duvet means a better night's sleep, which in turn means you'll feel happier and much more focused. Now that's revolutionary!