Last updated on September 20th, 2023 at 02:31 pm
When it comes to achieving year-round comfort in your sleep, a bamboo duvet can be a game-changer. Bamboo duvets offer a range of benefits, including excellent temperature regulation, hypoallergenic properties, and eco-friendliness. There is a whole world of bamboo duvets to explore, and it is important to understand everything about this wonder fabric and all of its benefits as well as how to properly care for it. Let's dive in!
Understanding bamboo duvets
Bamboo duvets are any type of duvet filled with bamboo fibres or a blend of bamboo and other materials. These duvets are known for their luxurious softness, comfort, and breathability. They different from regular duvets in many ways; a bamboo duvet is typically better for the environment, perfect for all year round, and a lot lighter.
As the name suggests, bamboo duvets are made from fabric derived from bamboo fibres. The best quality options will be made from 100% bamboo, although some are made out of a blend of both bamboo and cotton. You may also find that some have other materials, such as plastic buttons. If you're in the market for a new duvet, look for one with as much bamboo as possible.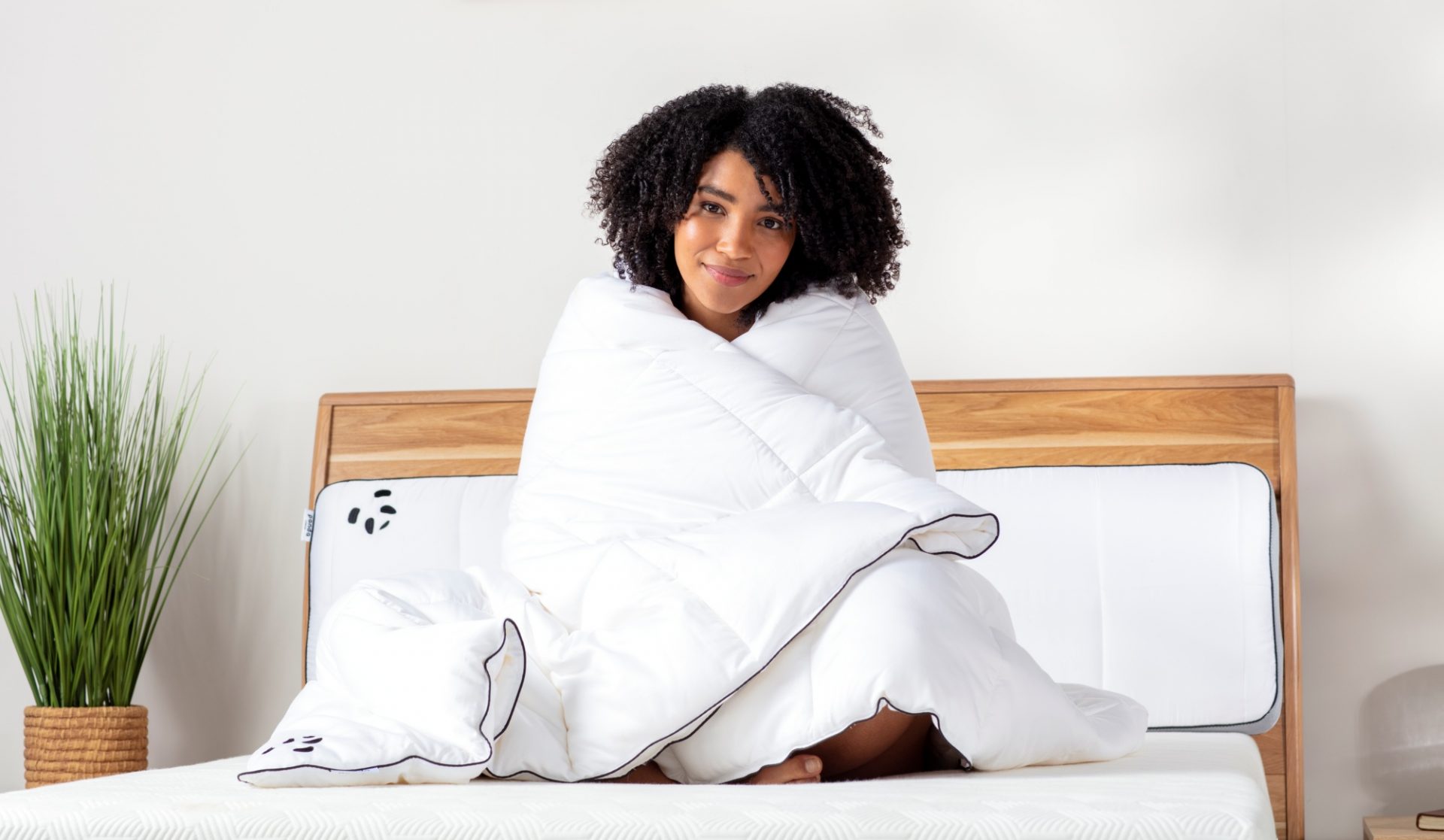 One of the standout features of bamboo duvets is their exceptional temperature regulating properties. They will insulate and trap heat on colder nights, keeping you cosy as you drift off. And when it's hot, you can rest assured that the enhanced airflow of a bamboo duvet will keep you cool. Bamboo intuitively reacts to your temperature, so this will be the perfect duvet for all seasons ensuring you sleep well night after night. There's nothing worse than not being able to sleep because you're too hot or too cold, and a bamboo duvet eliminates this issue for you.
What are the benefits of bamboo
Aside from temperature regulation, bamboo duvets offer several other advantages. Bamboo fibres are hypoallergenic, making them an excellent choice for those with allergies or sensitive skin. They are resistant to dust mites and other allergens that can cause discomfort during sleep. Additionally, bamboo is known for its smooth and soft texture, providing a luxurious feel and enhancing overall sleep comfort. And for added freshness, bamboo is naturally antibacterial and odour-resistant, as well as being moisture-wicking so there's no sweaty feeling on hot nights!
How to choose the right bamboo duvet
When selecting a bamboo duvet, consider factors such as the weight of the duvet, the blend of materials used, and the level of insulation you desire. Bamboo duvets come in various weights, allowing you to choose one that suits you; something that's lightweight but still soft and cosy is the ideal choice! Make sure you check the size of your bed when picking your duvet, so it's the perfect fit.
As mentioned, you'll want to opt for a temperature-regulating duvet with the highest percentage of bamboo – that way you're getting the best of all those incredible benefits. Check the care instructions too, as you don't want bamboo bedding that's tricky to keep in shape.
Look for environmental sustainability
Bamboo is one of the most eco-friendly materials on the market; it doesn't require much water to grow and regenerates super quickly when cut down. The plant itself is also amazing for the Earth generally: it sequesters carbon, so planting it is a win-win! Choosing a bamboo duvet means you're making a choice to purchase bedding with a minimal impact on the environment – especially if you shop with brands who pledge to use sustainable processes from the forest to your front door.
Customer reviews and testimonials
When you're looking for the perfect all-season duvet, be sure to check out customer reviews of eco-friendly bedding and see what real people have to say about enhancing their sleep comfort with bamboo duvet, pillow and bedding combinations. Look for words or phrases that relate to what you're looking for in a duvet such as it being lightweight, soft, and thermoregulating.
How to care for your bamboo duvet
Speaking of caring for your duvet, be sure to follow the manufacturers' instructions. A bamboo duvet should be washed at a low temperature (or by hand if you can!) and using a mild detergent. Line dry for optimum freshness, and you'll find your duvet stays soft and cosy for years to come. Pick the right pairing for your duvet, too – opt for a stylish and comfortable bamboo duvet to cover. They're a match made in sleep heaven!
Although bamboo duvets are perfect for every season, there might be times when you pop yours into storage. Be sure to store your duvet somewhere cool, dry and airy when not in use to keep it in tip-top condition.
Year-round comfort with a bamboo duvet
There are so many bamboo duvet benefits, from their thermoregulating properties to how snuggly they are; these duvets make the perfect addition to your bedroom, helping to improve your sleep and ensure you always wake up refreshed and ready to face the day. Sleep is a really key factor in living a happy and healthy life, and you don't want to be swapping duvets with the seasons – a bamboo duvet provides year-round comfort, allowing you to thrive.