As the leaves change colour and the temperature drops, it's time to transition our bedding ready for the cosy and comfortable vibes of the Autumn season. Choosing the right bedding sets for Autumn is essential for warmth and comfort and for embracing the seasonal aesthetics that make this time of year so special to so many. Alongside this, you should know what features to look for, how to care for your bedding set, and any budget-friendly options out there. Let's dive in!
What is the autumn aesthetic?
Autumn is a season defined by warm and inviting aesthetics. When selecting bedding sets, consider colours that reflect the beautiful hues of the season, such as deep burgundy, burnt orange, golden yellow, and earthy browns. These colours should invoke a real sense of cosiness! Patterns inspired by nature (such as leaves, acorns, or plaid designs) can also add a touch of seasonal charm to your bedroom.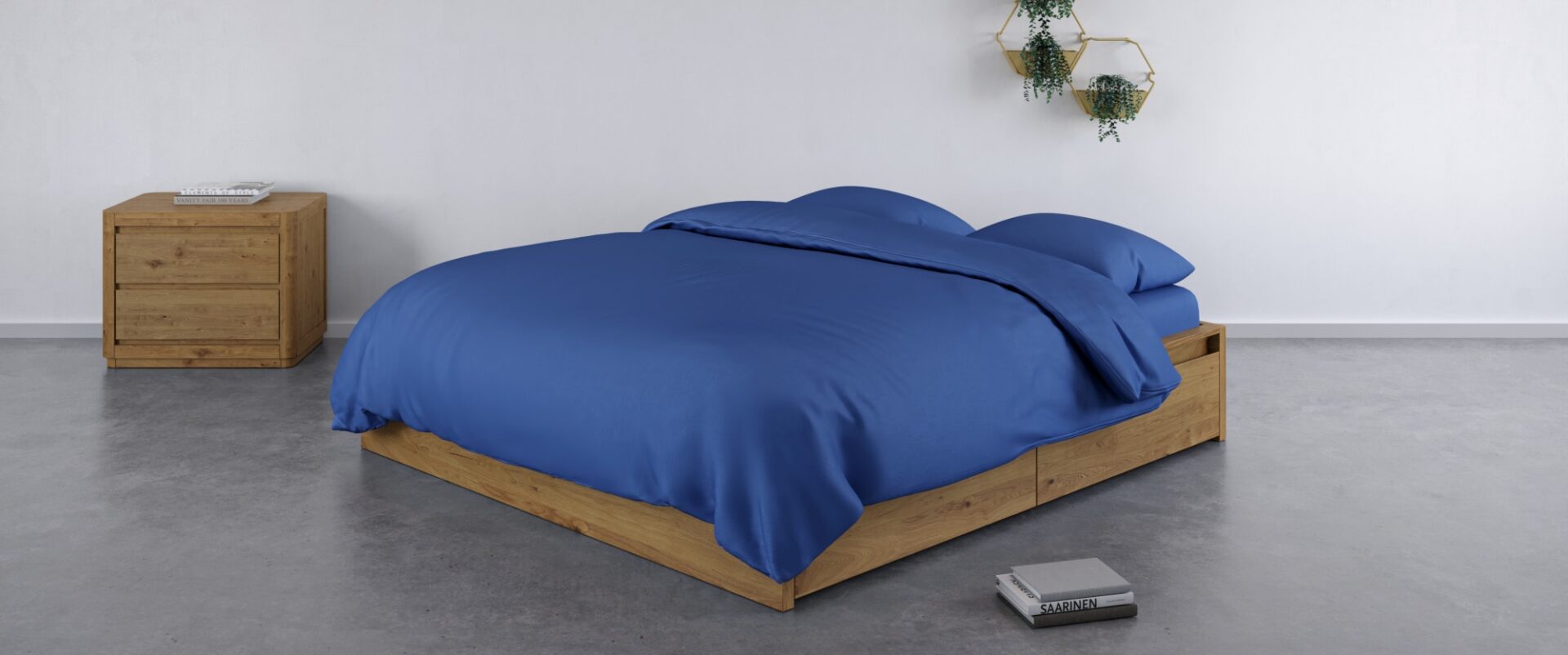 Choosing the right materials for your Autumn bedding sets is crucial for both comfort and thermal insulation – you want something super soft and completely cosy. Opt for flannel, brushed microfiber, cotton or bamboo fabrics, as they offer warmth while retaining breathability. These materials trap heat near your body, providing a cosy sleep environment during the cooler nights. You may also want to ensure the material is moisture-wicking (like bamboo is) to ensure you don't sweat when bundled up in thick pyjamas and toasty bedding.
What are the top features to look for?
When selecting bedding sets for Autumn, look for specific features that enhance comfort and convenience. Consider features such as deep pockets on fitted sheets to accommodate thick mattresses, extra plushness in comforters or duvets for added warmth, and hypoallergenic properties to prevent allergies or sensitivities. Feel the bedding before you buy, if possible, or opt for something with a free trial period – you want the softest bedding possible for the Autumn season! Check the ease of care, too; when cosy season rolls around, the last thing you want is to be faffing around with dry cleaning a duvet cover…
Best bedding sets for autumn
A wide range of bedding sets are available that are perfect for the Autumn season. Some popular options include flannel sheet sets, which offer a soft and warm feel, comforter sets with beautiful Autumn-inspired patterns and colours, and fleece 'teddy bear' bedding for those super cold nights. Opting for a full set is always the best idea: sheet, pillowcases, and a duvet cover. This will enhance the aesthetic of your room because everything will match really nicely.
There are a few different materials to look out for when choosing your seasonal bed linens…

When shopping around for your Autumn bedding sets, consider choosing bamboo. This material is super soft, making bedtime a luxurious experience; it is also thermoregulating, intuitively reacting to your temperature to keep you cosy on cold evenings. It is moisture-wicking, too, so you won't feel clammy no matter how toasty you are. Being naturally antibacterial and hypoallergenic, it is one of the most favourable types of bedding for cooler weather and your health!
Cotton is one of the most easily accessible materials for fall-themed bedding. You can find cotton bedding sets in most high street shops, and they usually come with a variety of pretty seasonal patterns: acorns, squirrels, pumpkins and more. Cotton is generally comfortable and skin-friendly, especially with higher thread count options.
If you want a hint of luxury in your bedroom this Autumn, silk is a good way to go; it's smooth and buttery on the skin and breathable and moisture-wicking. Opt for Autumnal shades and make your bed a classy place to be.
Customer reviews and ratings
When you're buying bedding for cooler weather, look at product reviews to see which bedding people have said keeps them warm. You want to be cosy and snug as the cold nights arrive! This will help you sleep better and stay comfortable. For example, this five-star review of our 100% Bamboo Bedding shows how perfect it is for the Autumn months: "So great in this cool weather, my allergies have dramatically improved since using it. Love it".
Reviews like this one will help show you the best options – and you'll also be able to find reviews that show you exactly what to avoid! Look at star ratings, and even have a look on social media to see what people are saying about their choices for cosy bedding for Autumn!
Maintenance and care tips
As with all bedding, your Autumn-inspired duvet covers must be properly cared for. Be sure to always check out the manufacturers' instructions in terms of how best to wash and dry your bedding; with bamboo bedding, for example, you should wash it with a mild detergent at a low temperature and let it dry naturally. Of course, it can be tumble-dried, which might be necessary during the colder months, but you should do so in a lower setting.
You should also store your Autumn bedding properly during the warmer months; wash and dry them so they're being put away clean, and store them somewhere cool/dry/airy to avoid any mould or mildew growing.
What are some budget-friendly options?
If you're looking for budget-friendly options for your Autumnal bedding, consider 'buy now, pay later' options – this allows you to spread the cost while still investing in good quality, warm and stylish bedding. Look at sales (Black Friday is coming up!) and check out supermarkets too, as they always have a great range of Autumn-inspired duvet covers and more.
What are the best bedding sets for Autumn?
Autumn bedroom decor should be fun and cosy – opt for materials that will keep you warm without causing you to sweat and bedding that is easy to care for. The most comfortable sheets for fall are bamboo and thick cotton, and you want to be on the lookout for hypoallergenic and antibacterial properties, too. Good sleep will set up for the best Autumn yet, so be sure to prioritise your bedding at this time of year.