Last updated on September 8th, 2023 at 09:38 am
Bamboo pillow cases, expertly made from fabric created from this incredible wonder plant, are an amazing way to bring a hint of sustainable luxury into your bedroom. Kind to the skin and made without harming the environment, bamboo pillow cases can help you sleep better and wake up feeling fresher.
Understanding bamboo pillow cases
Bamboo pillow cases are made from sustainable and super soft bamboo fabric, which is spun from sheets of dried bamboo pulp created from chopped-up bamboo stalks. Some are combined with other materials like French Linen, giving them a slightly different texture but with all the positives of bamboo!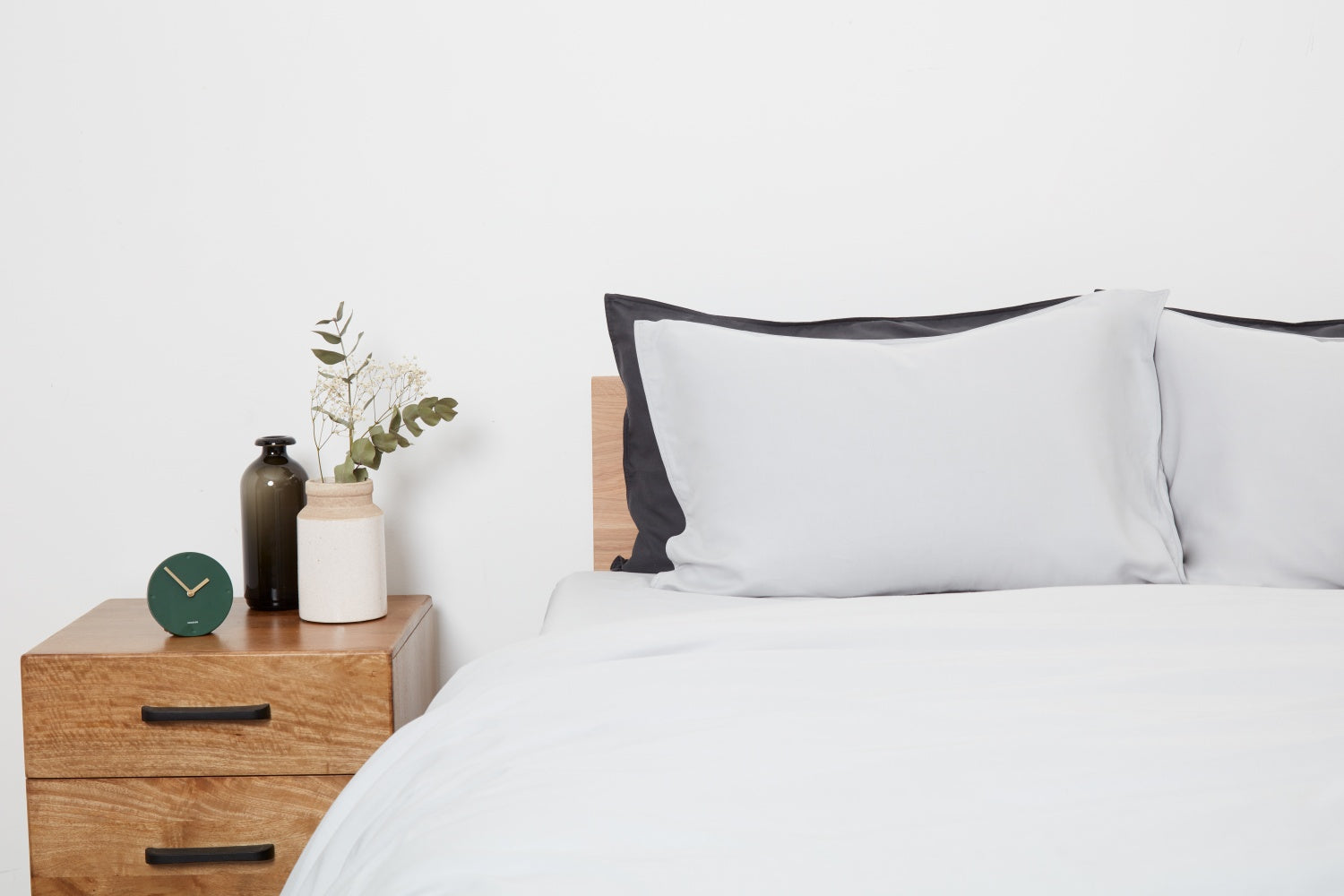 This amazing plant grows rapidly without the use of chemicals and pesticides, and without the need for too much water, making it an environmental dream. Even when it's cut down in order to be used for fabric or construction purposes, bamboo regenerates rapidly. The growth and cultivation process of the plant provides career opportunities for those in rural communities, making it a great option when choosing a material for your home.
Is a bamboo pillow case different from a regular one? Yes, in that they feel much more luxurious and have many more benefits – which you'll read about below. Bamboo is much easier (and more eco-friendly) to grow than cotton, for example, and your pillow case will get softer the more you wash it. This makes it a long-lasting option, so you won't need to replace your bedding as often; this prevents pillows cases ending up in landfill!
What are the benefits of bamboo pillow cases?
There are plenty of environmental benefits to bamboo pillow cases, as outlined above, but it doesn't stop there. The bamboo fabric itself is hypoallergenic, making it perfect for people with sensitive skin or allergies; you can sleep soundly knowing you and your family can lie your head on a pillow which won't cause irritation as you snooze. On top of this, bamboo pillow cases are antimicrobial and odour-resistant, meaning a fresher and cleaner sleep!
One thing which prevents us from getting a good night's sleep is when the temperature isn't quite right; on hot and sticky nights you might wake up in a flush with a normal pillow case. But a bamboo pillow cover has both temperature-regulating and moisture-wicking properties. Keeping you cool at night time and not allowing any dampness to settle on the surface, these remarkable bedroom products will definitely help you sleep better for longer.
Bamboo is softer than silk and just as sumptuous as cashmere, but this doesn't stop it from being incredibly durable. Because the plant itself as a raw material is so strong, it's no surprise that bamboo fabric is so sturdy and substantial. This makes it even better for the planet – and your pocket – as your pillow cases won't need replacing so often.
How do you care for a bamboo pillow case?
When it comes to buying products for your home, you want to look after them as best as possible so you can really get the best out of them. This means it is really important to follow any care instructions that come alongside your bamboo pillow case: they're generally super easy! Wash at a low temperature, preferably with natural and eco-friendly detergents and never bleach. Drying on the line is ideal; you'll get that lovely fresh air smell flowing through the pillow case, and it's easier on the environment than using a tumble dryer or putting the heating on.
There are, of course, some things *not* to do. Alongside avoiding bleach, don't use fabric softener either. Not only are bamboo ones soft enough on their own, but the chemicals in a fabric softener can really damage those delicate fibres. You should also avoid washing any of your sustainable bamboo bedding with clothes or other items made of different materials – any fabrics that shed lint could damage bamboo fabric, as could zips and plastic buttons.
How do you choose the right bamboo pillow case?
When you're looking to buy a bamboo pillow case for yourself, there are a few things to consider from your ideal price point to the range of colours available from a particular brand. Fabric type is important, too – do you want 100% bamboo, or a linen, viscose or rayon mix? While all bamboo fabrics are similar in that they are soft and durable and have all those other health and body-related brilliant properties, there are subtle differences that might make you choose one over another. For example, rayon is made from cellulose while bamboo viscose is created from pulp. Shopping in-store is the best way to know which bamboo fabric suits you best, as you can really get a feel for each type.
There are other ways to help you choose the right bamboo pillow case for you, including reading reviews from existing customers who are already loving their purchase… Some examples of the fantastic things people have to say about their pillow cases include raving about the softness, sharing an improvement in their eczema symptoms, and commenting on how they are better valued for money than silk alternatives! 
Bamboo pillow cases are an ideal choice thanks to their kind-to-skin properties: helping to regulate your temperature, repelling germs and dust, and so on. The environmental benefits are also amazing, too – no nasty side effects to the planet, completely non-toxic, helping to provide jobs in rural areas. There are so many reasons to choose bamboo for your new pillow cases, not least because you'll get the best night's sleep every night. If you want to improve the way you snooze, then why not try bamboo and see how lush it feels?
Frequently Asked Questions
Getting as much information as possible is key to making the right purchase – this is true of any bedroom products including sustainable and breathable bamboo pillow cases. Here are some frequently asked questions – with answers to put your mind at ease.
How often should you wash a bamboo pillow case?
Last updated on September 8th, 2023 at 09:38 am
You should wash your bamboo pillowcases approximately every ten days, but every fortnight is fine too.
Can you tumble dry bamboo pillow cases?
Last updated on September 8th, 2023 at 09:38 am
It's best to air dry your pillowcases, but if you need to use a tumble dryer, choose a low temperature.
Are bamboo pillow cases good for sensitive skin?
Last updated on September 8th, 2023 at 09:38 am
Yes, thanks to their hypoallergenic and antimicrobial nature, they are great for those with sensitive skin.
Are bamboo pillowcases eco-friendly?
Last updated on September 8th, 2023 at 09:38 am
Bamboo is a sustainable and renewable resource, making bamboo pillowcases an eco-friendly choice. Look for certifications like OEKO-TEX or USDA Organic for added assurance.
Do bamboo pillowcases wrinkle easily?
Last updated on September 8th, 2023 at 09:38 am
Bamboo pillowcases are less prone to wrinkles compared to some other fabrics. However, a quick ironing on low heat can help if they do wrinkle.
If you want to know even more about bamboo bedroom products, here are a few things you might find interesting!